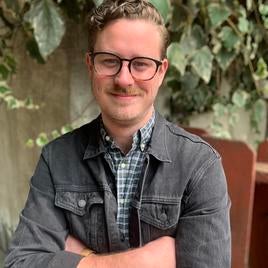 Mark Reynolds
Graduate Student, HGSA First Year Liaison/Vice Secretary and 2020 Cornerstone Undergraduate Research Journal Editorial Committee Member
BA in US History, summa cum laude – UC Riverside, 2019
Research Areas
The First World War, Environmentalism and Progressive movements, Public health, War and society.
Contact Information
Department of History
I am interested in the concept of invisibility within the discourse of modern war. Both in the United States and more broadly, I am looking at the ways in which the experience of war has changed for soldiers and civilians alike at the turn of the twentieth century, as technology renders war both deadlier and more distant. I am also interested in the many invisible wounds of war, both physical and mental, and the mobilization of nature as medicine. My project exists at the intersections of social, cultural, and political history, as well as the history of medicine and the environment, with particular emphasis given to the racialized and gendered experiences of war, nature, and health.
Awards Received
2020-2021 Global 19th Century Research Fellowship, UCR Center for Ideas and Society