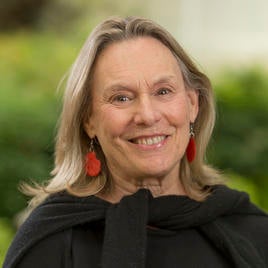 Dr. Devra Weber
Associate Professor of History
Ph.D., UCLA, 1986
Research Areas
United States History, labor history, with an emphasis on Mexican women, Mexicano/Chicano workers immigration, oral history, US fronters and California.
Contact Information
Department of History
(951) 827-1874
Devra Weber was born in New York to thespian parents, and raised in California, New York and the wilds of a Boston suburb. She began her academic career at the University of Wisconsin, and moved to UCLA where she began to focus on working class history. After a career in documentary films, she received her Ph.D. from UCLA in 1986. She has published two books: Dark Sweat, White Gold: California Cotton, Farmworkers and the New Deal, 1919-1939 (UC Press, 1994), and edited La Historia de Vida del Inmigrante Mexicano por Manuel Gamio (México City: Editorial Porrua, CIESAS/UC MEXUS joint publication, 2002), part of a three part collaborative work between UC MEXUS and CIESAS. The second volume of this collaboration, Inmigración Mexicano a los Estados Unidos por Manuel Gamiois to be published in 2004. Weber has published numerous articles, among them: "Leaving Trails of Powder: Ruminations on 'unthinkable' histories, families, narratives, silences, and the Mexican left in the United States," "The Oaxacan Enclaves in Los Angeles: A Photo Essay," "Preguntas Sobre las Politicas de Representacion," "Historical Perspectives on Mexican Transnationalism: With Notes from Angumacutiro," "Raiz Fuerte: Oral History and Mexicana Farmworkers," "History and Oral Narratives," "Mexican Migrant Workers: A Case Study of Transnationalism," "The Organizing of Mexicano Agricultural Workers in Imperial Valley and Los Angeles, 1928-1934: An Oral History Analysis," "Mexican Women on Strike: Memory, History and Oral Narratives."
She is a recipient of the University of California President's Fellowship Award, and has received fellowships from The American Council of Learned Societies, the American Association of University Women, and the University of California Humanities Research Institute, UCI. Weber teaches the History of US frontiers, United States labor history, oral history, and the history of California. She is currently working on a project entitled "Sin Fronteras" which focuses on transnational Mexican migration culture, labor and social organization in both Mexico and the southwestern United States. She has presented papers at numerous conferences. She is also a photographer and working on a book of 30 years on the Mexican community in Los Angeles. She is active in Los Angeles community affairs, and has served as a member of the board of One Stop Immigration and Education Center, the Los Angeles Museum of Art, History and Culture, and is currently a member of the board of the Southern California Library for Social Studies and Research, Los Angeles. She is also an advisor of the Frente Indigena Oaxquena Binacional (Binational Indigenous Front of Oaxaca).