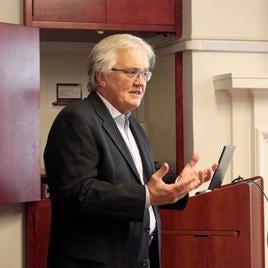 Dr. Thomas Cogswell
Professor and Chair
Ph.D., Washington University, 1983
Research Areas
British history, especially the early modern period
Contact Information
Department of History
HMNSS 1215
951-827-1438
A shy, dutiful lad who always used his indoor voice, Cogswell was appalled by the vulgarities of modern life and fled to the calm, decorous world of the early 17th century – which [horrors to tell] he discovered to be full of people saying and doing rude things.  In order to bring these miscreants to book [quite literally], he has been busy writing up full reports of their outrages.  Details can be found in:  The Blessed Revolution: English Politics and the Coming of War, 1621-1624 (Cambridge, 1989); Home Division: Aristocracy, the State and Provincial Conflict (Stanford, 1998); [with Alastair Bellany], The Murder of King James I (Yale, 2015); and James I: the Phoenix King (Penguin, 2017).  Those unfortunates still struggling with insomnia should have recourse to Politics, Religion and Popularity, co-edited with Richard Cust and Peter Lake (Cambridge, 2002) and over thirty academic articles, any one of which can numb you up nicely. 
He is currently writing books about early Stuart elections and a dual biography of the Duke of Buckingham and his assassin, Lt. John Felton.  Periodically he also mounts efforts to bring shadowy dissidents like Thomas Scott of Canterbury and John Newdegate of Arbury Hall to justice and to highlight the heroic efforts of Suffolk herring fishermen to protect themselves.  [For more details, see the forthcoming articles in the English Historical Review and the Journal of British Studies.]
His vigilante efforts have received support from the American Council for Learned Societies [1985-6 and 2013-14], the Folger Shakespeare Library [1990-91], the National Humanities Center [1985-86 and 2004-05], the University of California President [2008-09] as well as Wadham College, Oxford and the John Simon Guggenheim Foundation [1998-99].  He served on faculty of the University of Kentucky in 1984-99 and as a Visiting Professor at Harvard University in 1997-98. 
In 2014, the Huntington Library invited him to deliver the Homer Crotty Lecture, and in 2016, at the behest of the British Embassy, he gave give a public lecture in Abu Dhabi to mark the 800th anniversary of Magna Carta. Royal Holloway College, London invited him to deliver the Hayes Robinson Lecture in March 2018.  Finally the Huntington Library named him the R. Avery Stanton Distinguished Fellow in 2016-17. 
In his devotion to law and order, he served as the Chair of the Academic Senate in 2006-08 and as Department Chair in 2000-03, then again in 2005-06, Fall 2009, 2012-13 and 2018-19.
Either behind the podium or, better yet, marching weary undergraduates across London in the summer, Cogswell sets his face against flamboyant, humorous approaches to History… or at least he tries to.