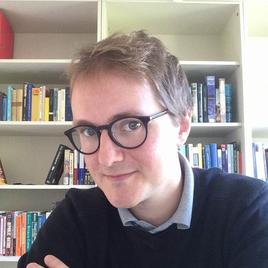 Dr. Philipp Lehmann
Assistant Professor
Ph.D., 2014, Harvard University
Research Areas
Environmental History; History of Science and Technology; modern Europe and Africa, with a focus on Germany and the German colonies
Contact Information
Department of History
W 11am-noon (and by appointment)
Philipp Lehmann joined the History Department in 2017. After receiving his Ph.D. from Harvard University in 2014, he worked as a Research Scholar in Department II at the Max Planck Institute for the History of Science in Berlin, where he co-directed the Research Groups "Experiencing the Global Environment" and "Knowledge Practices in Bureaucracies." His research focuses on the histories of colonial data gathering, the development of climate science, and the emergence of a global environmental vision in the geographical and earth sciences. He is currently working on his first book with the title "Deserts with History: From Climate Change to Changing Climates," which traces the development of early ideas of global environmental change and examines their links to both climate engineering projects and theories of cultural and societal decline in Europe in the first half of the twentieth century.
His next project, "Data That Travel: Climates Between Africa and Europe," examines the co-construction of local and global climatic concepts at the turn of the twentieth century through a history of data gathering efforts in the German colonies in Africa. The research focuses particularly on the question of what kind of information practitioners in Africa collected and relayed to Europe, and how these data were selected, filtered, and translated to serve as the material for both visual representations of world climates on maps and for models of large-scale, or even global, climatic phenomena.
Philipp Lehmann teaches classes in environmental history, modern German history, energy history, and the history of climates and climatology.
Awards Received
2017     Alice Hamilton Article Prize, American Society for Environmental History
2015     Rachel Carson Dissertation Prize, American Society for Environmental History
2015     Visiting Lecturer, University of Chicago
2015     Harold K. Gross Dissertation Prize, Harvard University
2010     Mellon CLIR Research Fellowship, Council on Library and Information Resources
Publications
"Experiencing the Global Environment," Studies in History and Philosophy of Science Part A , Edited by Lino Camprubí, Philipp Lehmann Volume 70, Pages 1-86 (August 2018)
"Losing the Field: Franz Thorbecke and (Post-)Colonial Climatology in Germany," History of Meteorology 8 (2017)
"Utopia," Fueling Culture: 101 Words for Energy and Environment (Fordham, 2017), edited by Imre Szeman, Jennifer Wenzel, and Patricia Yaeger
"Infinite Power to Change the World: Hydroelectricity and Engineered Climate Change in the Atlantropa Project," American Historical Review 216.1 (2016)
"Whither Climatology: Eduard Brückner's Climate Oscillations, Data Debates, and Dynamic Climatology," History of Meteorology 7 (2015)
 "Between Waterberg and Sandveld: An Environmental Perspective on the German-Herero War of 1904," German History 32.4 (2014)