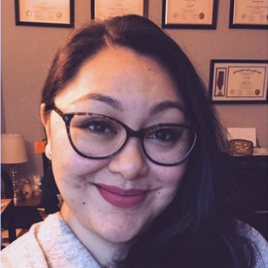 Mayela Caro
Graduate Student
B.A. and M.A. from California State University San Marcos
Research Areas
WWII, Latinx studies, popular culture, race and gender, and foreign policy.
Contact Information
Department of History
Mayela studies the relationship between foreign policy and popular culture during the mid-20th century, especially around themes of Latinidad. She primarily utilizes Hollywood films, as well as print and material culture that deals with Latinx themes to understand how Latinxs were represented during President Franklin Delano's Roosevelt (FDR's) Good Neighbor Policy era, from 1933-1945. Mayela analyzes the manner in which Hollywood represented Latinx actors and how the images that conveyed Latinidad shifted with the implementation of Hollywood's Censorship Code and the onset of WWII. The goal of her research is to develop and broaden the knowledge and understanding of Latinx populations in the United Sates, within the context of the transnational relationships built between the United States and the broader Americas, forged by the Good Neighbor Policy.
20th century United States cultural history and public history.
Committee Members
Dr. Cathy Gudis
Awards Received
California Preservation Foundation Diversity Award
Smithsonian Institution Minority Student Award
Humanities Action Lab Award
Publications
"Public Histories of Incarceration: Reflecting on Museums and Social Change" in Museums and Social Issues, Spring, 2017, Vol. 12, No.1
"States of Incarceration" in Boom, Summer 2016, Vol. 6, No. 2