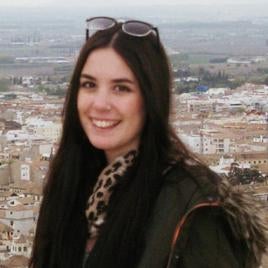 Marina Murillo
Graduate Student
BA degree in History, MA in History and Sciences of Antiquity
Research Areas
Barbarian Invasions, Bishops in Late Roman Spain, Roman-Barbarian Diplomacy, Christian Aristocracies in Late Antiquity, Early Medieval History of Europe
Contact Information
Department of History
Her research interests focus on Late Antiquity changes produced by the so-called crisis of the Roman Empire and the penetration of the Barbarian populations in the Western areas. Especially interested in the role of one of the most important figures of this age of transition, the bishop, in its religious, diplomatic, judicial and social duties. 
Her thesis project is also centered in the Hispanic area in the V century and the peculiarities it has, compared with other traditional regions of the Roman Empire as Gallia and Africa. 
Finally, her research is also concerned in the diplomatic relations between Roman authorities, especially bishops - and barbarian leaders, trying to identify the actors, roles, and processes of this late diplomacy.  
Publications
Murillo Sánchez, M. (2017) "Antecedentes del conflicto cristiano-pagano antes del siglo IV d.C.", in Martínez García, J. J; García Carreras L.; López Muñoz D. et al. (eds.) Actas del III Congreso Internacional de Jóvenes Investigadores del Mundo Antiguo (CIJIMA III), CEPOAT, Universidad de Murcia. Available online: http://www.um.es/cepoat/publicaciones/?page_id=2081.