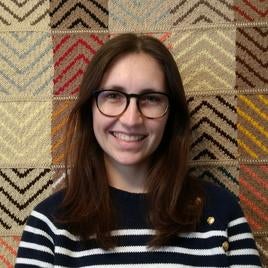 Margaret Hanson
Graduate Student
BA: Brown University 2014, American Studies with Honors
Research Areas
Public History, 19th Century US History, Women and Gender, Consumption
Contact Information
Department of History
My research centers on constructions of gender in the nineteenth and early twentieth century. I am particularly interested in the construction and negotiation of gender in the interactions between consumers and popular media. I am further interested in examining the ways that these interactions, including folk production, fan activities, and individual creative work, transform the meanings associated with cultural products.
Committee Members
Advisor: Dr. McGarry
Awards Received
New England American Studies Association 2014 Lisa MacFarlane
Award for undergraduate thesis: Remaking American Girl(hood): Fan Reuse, Reinterpretation, Alteration and Expansion of the American Girl Brand
Publications
"A Looking-Glass for William Claggett." Newport History: Vol. 90 : Iss. 279, Spring 2019.