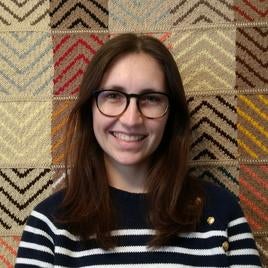 Margaret Hanson
Graduate Student
BA: Brown University 2014, American Studies with Honors
Research Areas
Public History, 19th Century US History, Women and Gender, Consumption
Contact Information
Department of History
My MA thesis considers Cyrus DeVry, the first head zookeeper of the Chicago Lincoln Park Zoo, and analyzes his frequent public appearances and gendered performances. My research aims to build on this project, considering the ways that humans performed and understood identity in relation to animals in the late nineteenth and early twentieth century United States.
Research Sub-Area: Early US Zoos, Human-Animal Performance, Efforts to define species, gender, and race
Committee Members
Advisor: Dr. McGarry
Awards Received
New England American Studies Association 2014 Lisa MacFarlane
Award for undergraduate thesis: Remaking American Girl(hood): Fan Reuse, Reinterpretation, Alteration and Expansion of the American Girl Brand
Participant-- 2019-2020 Humanities Careers in Science History, Policy, and Communication Career Development Program
Publications
"A Looking-Glass for William Claggett." Newport History: Vol. 90 : Iss. 279, Spring 2019.
"The Trial of Cy DeVry: Manly Negotiations for Control Over Animals, People, and Public Space at Chicago's First Zoo." Journal of the Illinois State Historical Society (1998-) 113, no. 2 (2020): 38-67. doi:10.5406/jillistathistsoc.113.2.0038.