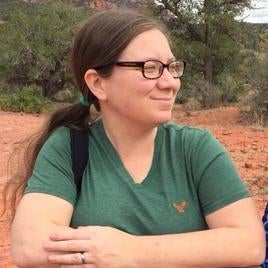 Katrin Boniface
Graduate Student
SUNY Stony Brook BA Medieval History & English; CSU Fresno MA Medieval History 
Research Areas
Equine History
Contact Information
Department of History
 My dissertation challenges the narrative of 'superstitious' notions of heredity prior to modern genetics by looking at the choices made by livestock breeders before and after the development of evolutionary and genetic science. Robert Bakewell's late 18th century experiments with inbreeding had a far greater effect on breeders' choice, and even prior to Bakewell breeders discussed multi-generation inheritance of traits. In addition to showing that pre-Darwinian breeders had a working concept of trait heredity, I provide a model for the pre-modern concept of "breed" as being tied to the land and the breeder rather than blood and pedigree. This was a concept that pre-dated Darwin, and one that his studies could not challenge; rather, Darwin reinforced the idea that the land itself selected certain strengths in animals, making the selection of place as important to breeders as the selection of broodstock. Because of this, this idea survived through mid 20th century, with breeders selecting desert landscapes on which to raise Arabians, and setting down on paper the breeds produced in each region, from the bluegrass to the Rockies. 
Other research areas include medieval and early modern equine nutrition and changing definitions of "humane" treatment in animal training.
History of Science
Committee Members
Jonathan Eacott, Dana Simmons, Randolph Head
Awards Received
Center for Ideas and Society Graduate Research Grant, Summer 2018
NSF Travel Grant for SHOT 2018
Publications
"Bread for my Horses," The Medieval Horse: Its Maintenance, Management and Representation, ed. Anastajia Ropa (Kalamazoo MI: Medieval Institute Publications), forthcoming. 
"Manufacturing the Horse," Horse Breeds and Human Society, ed. Kristen Guest and Monica Mattfeld, 2018, forthcoming. 
Wright, Glen. Academia Obscura. Unbound. Editor & commenter on Academic Animals, 2017
Cornerstone, Editor, May 2016 & 2018 
"A Different Sort of Horsepower," Making Sense of: the Animal/Human Bond, ID Press, 2015