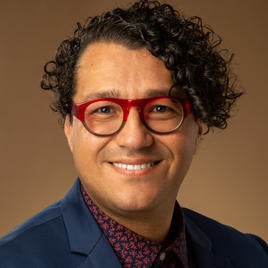 Jorge Leal
Assistant Professor
Ph.D. in History, UC San Diego, 2018
M.A. in History, California State University, Northridge, 2011
Research Areas
U.S. History, California, Mexico & US Migrations
Thematic Fields: Mexican American/Chicanx History, 20th Century U.S. Race, Ethnicity and Migration History, Youth Cultures, Urban History, Transnational History, California History, Digital and Public History.
Courses Taught
History 004 — Introduction to Chicano History (Winter 2021)
History 30 — Latinx Cultural Circuits-TBC (Spring 2021)
History 197 — Chicanx/Latinx Social Movements-TBC (Spring 2021)
Contact Information
Department of History
Dr. Jorge N. Leal is a cultural and urban historian whose research examines how transnational youth cultures have reshaped Southern California Latina/o/x communities in the late twentieth century. He received his bachelor's degree in journalism and history and his master's degree in history at California State University, Northridge. 
Dr. Leal went on to earn his doctorate in U.S. history at the University of California, San Diego. Leal first wrote about Southern California as a journalist assigned to cover Los Angeles politics and Latina/o cultural topics for publications in Southern California, Mexico, and Spain. 
Prior to earning his Ph.D. Dr. Leal was an active participant in the L.A. Latinx music scene both as rock critic and concert producer. Dr. Leal's academic writings have been published in the following anthologies Post-Ghetto: Reimagining South Los Angeles published by the Huntington Library/UC Press, Beginning a Career in Academia: A Guide for Graduate Students of Color, edited by Taylor and Francis, in the California History Journal, and in the upcoming volume Performing Mexican Identities to be published by the University of Arizona Press. 
As a public historian Dr. Leal collaborates with the Southern California cluster of "Imagining America," an organization that brings together higher education institutions to develop collaborative research between undergraduate and faculty across campuses. He is also co-curator and museum educator for the Boyle Heights Museum, an organization that preserves and celebrates the multi-ethnic history of Los Angeles' Boyle Heights neighborhood. 
Dr. Leal is also the curator of The Rock Archivo LÁ, an online collective repository that collects, shares, and examines L.A. Latina/o/x youth cultures ephemera. Dr. Leal is currently revisiting his book manuscript tentatively entitled "Aquí y Allá ¡Yo voy a Existir: Young Latina/o Ingenuity, Sound, and Solidarity in Late Twentieth Century Los Ángeles," which examines how Latina/o youth used their cultural production and spatial manifestations within Rock Angelino to claimed themselves as part of Los Angeles, pushed against anti-immigrant rhetoric and advocated for equality and social justice in the U.S. and Latin America. 
Previous to joining the faculty at UCR, Dr. Leal held a postdoctoral scholar and teaching fellowship at the University of Southern California. He also taught courses on urban history, race, gender, and culture at California State University, Northridge and Los Angeles.
Awards Received
2019-2020. Postdoctoral Scholar and Teaching Fellow, University of Southern California. Co-appointed in the History & American Studies and Ethnicity Departments