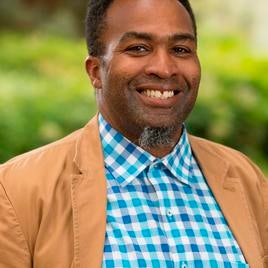 Dr. Jody Benjamin
Assistant Professor
Ph.D. in African and African American Studies with a concentration in African History, Harvard University, 2016
On research leave, AY 2019-20
 
Research Areas
West Africa (Mali, Guinea, Senegal); Atlantic Slave trade and early colonial period; material culture; history of textiles and dress, early and contemporary African history.
Contact Information
Department of History
HMNSS 1212
951-827-
Professor Benjamin joined UCR's History Department in 2015, and received his PhD from Harvard University in 2016.  His research focuses on the 18th and 19th century transformations reshaping western Africa up to the early colonial period. He analyzes western Africa's role in the rise of global cotton through attention to its material culture, consumption patterns, and fashion; thus charting the region's integration into a global economy dominated by capitalist networks. Trained as a historian in the Department of African and African American Studies, Dr. Benjamin deploys a set of interdisciplinary strategies both to map and to re-interpret Africans' roles in shaping the contemporary world.  He is currently completing a book manuscript, "The Texture of Change: Clothing, Commerce and History in Western Africa during an Atlantic Age."
Recent Fellowships and Awards
2020-2021: UC Regents Faculty Fellowship.
2019-2020: National Endowment for the Humanities (NEH) Faculty Research Fellowship. Link
2018-2019: UC Humanities Research Initiative Junior Faculty Book Manuscript Workshop Award. Link.
2017: Ruth and Lincoln Ekstrom Fellow at the John Carter Brown Library, Brown University. Link
2017-18: Hellman Fellowship, UC. Link
Peer-Reviewed Publications
"Clothing as a Map to Senegambia's Global Exchanges during the Late - Eighteenth Century" in Dressing Global Bodies: The Politics of Fashion in World History, 1600 - 2000, eds. Beverly Lemire and Giorgio Riello (Routledge, 2019). Links: to book; to chapter
"Historicizing Fashion in Western Africa: Regional Markets, Global Linkages and Local Tastes in the Early Modern Period, 1700 - 1850" in Creating African Fashion Histories, eds. JoAnne McGregor and Nicola Stylianou (Indiana University Press, accepted, forthcoming 2020). 
"On Sartre's Hegelian View of African History," The Savannah Review, N.5, May, 2015, 21 - 38. Link
Recent Book Reviews
2020: Review of Michael A. Gomez, African Dominion: A New History of Empire in Early and Medieval West Africa, Princeton, NJ: Princeton University Press, Journal of West African History. 
2019: Review of Colleen Kriger, Making Money: Life, Death, and Early Modern Trade on Africa's Guinea Coast, Ohio University Press, Journal of African History.