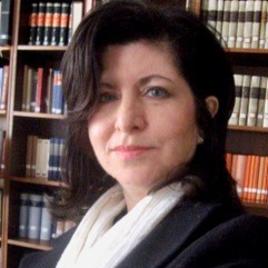 Dr. Fariba Zarinebaf
Professor, Former Director of Middle Eastern and Islamic Studies Program at UC-Riverside, 2012-2016
Ph.D., University of Chicago, 1991
 
Research Areas
The Middle East: The Ottoman Empire and Iran, Early modern to modern periods.
Courses Taught
HIST 30, Harem in Middle Eastern History and European Narratives
HIST 121, Survey of Middle Eastern History, 1200-1800
HIST 124, Women in Middle Eastern-Islamic History;
HIST 125, Islam & Revolution in Iran
HIST 126, Istanbul in History and Fiction
HIST 277, Approaching Early Modern World: The Ottoman Empire and Europe
Hist 122, Modern Middle East, 1800-1945
Hist 278, Early Modern Empires, The Ottomans and Safavids
Contact Information
Department of History
Fariba Zarinebaf obtained her B.A. from the University of Illinois at Chicago. She received her Ph.D. in Middle Eastern and Islamic history from the University of Chicago in Islamic history. Before coming to the UC Riverside, Fariba Zarinebaf taught at the University of Virginia, Northwestern University, Bilkent University in Ankara, Turkey and at the University of Illinois at Chicago. She also taught at the University of Chicago.
New Book
INTERESTS
I am interested in the social and urban history of the Ottoman Empire and Iran. Filling an important gap in Ottoman studies, my book, Crime and Punishment in Istanbul, 1700-1800, published by the University of California Press in 2010, examines the history of violence, criminality, policing and punishment in Istanbul from the eighteenth to the early nineteenth centuries. Mapping urban violence and crime in Istanbul's multi-ethnic and diverse social landscape, this study links violence and crime to political, economic and social transformations in the Mediterranean's largest metropolis. My work seeks to normalize the history of Istanbul through the lens of Istanbul's police records, Islamic court documents, Ottoman narrative sources and European travelogues. I also argue that contrary to the existing trajectories of Ottoman modernization based on Western models alone, the Ottoman legal system based on the shari'a, custom, and kanun continued to exert influence on the penal code well into the twentieth century. The system of Ottoman justice allowed for constant negotiation between communal courts, the kadi court and the imperial council. Moreover, the role of state in punishing crime and policing expanded in the eighteenth century contrary to the proponents of Ottoman decentralization theory. The Ottoman state was not too different from its Western counterparts in controlling and disciplining its unruly population, sexual transgressions, and various categories of crime at times of social and political unrest.
My next project will focus on cosmoplitanism and modernity in Istanbul during the nineteenth century. I am also working on expanding my dissertation to study Azerbaijan between two empires (the Safavid and Ottoman) and examnine the history of a borderland region in the early modern period. I am also writing a Memoir of growing up in Pre-Revolutionary Iran.
My other interests include Islamic history and civilization; The Ottoman Empire and Iran; Gender in Middle Eastern history; Islamic Legal history; Urban and social history of  the Ottoman empire and Iran; Crime and policing in Istanbul; Ottoman Greece; Inter-communal relations in Istanbul; Azerbaijan and the Caucasus; History of women's charity and philanthropy in the Middle East; Modernity and Sexuality in the Middle East; Persian literature.
AFFILIATIONS
Middle Eastern Studies Association
Turkish Studies Association
Awards Received
Fulbright scholars fellowship, 2013-14
American Research Institute in Turkey (2010)
Center for Ideas and Society, UCR (2010)
Newberry summer fellowship (2009)
Senate regents fellowship (2009-10)
Summer Research Grant, University of Virginia, 2008-09
Iran Heritage Foundation Research Grant, 2006-07
University Faculty Research Grant, Northwestern University, 2005-06
NEH-ARIT (National Endowment for the Humanities and American Research Institute in Turkey), 1998-1999 and 1995-96.
Publications
BOOKS
Mediterranean Encounters: Trade and Pluralism in Early Modern Galara. University of California Press, 2018. 

https://www.ucpress.edu/book/9780520289932/mediterranean-encounters

Women on the Margins: Gender, Charity, and Justice in the Early Modern Middle East. Istanbul, ISIS press, 2014.
Crime and Punishment in Istanbul, 1700-1800. University of California Press, 2010. (Runner up for the Emory Elliott book award, 2012)
F. Zarinebaf, J.L. Davis and J. Bennet, An Historical and Economic Geography of Ottoman Greece: Southwest Morea in the Eighteenth Century. Princeton: American School of Classical Studies, 2005. (co-authored)
Thierry Zarcone and Fariba Zarinebaf-Shahr, eds., Les Iraniens d'Istanbul. (Bibliothèque Iranienne No. 42, Varia Turcica XXIV) Paris, Tehran, and Istanbul: Institut Français d'Études Anatoliennes, Paris, Tehran, Louvain: Peeters, 1993. (co-authored)
ARTICLES
"Capitulations and the Rise of an Ottoman Bourgeoisie: A Command Economy in Transition?" in History from Below: A Tribute to the Memory of Donald Quataert, edited by Selim Karahasanoğlu and Deniz Çenk (Istanbul: Bilgi University Press, 2016).
"Policing Morality:  Crossing Gender and Communal Boundaries in an Age of Political Crisis and Religious Controversy in Seventeenth Century Istanbul" in Christine Isom-Verhaaren and Kent Schull (eds), 
Living in the Ottoman Realm: Everyday Life and Identity from the13th to the 20th Century (Bloomington, IN:  Indiana University Press, 2016).
The Safavid Empire, Encyclopedia of Empires, (Wiley-Blackwell 2016).
"Rebels and Renegades on the Ottoman-Iranian Frontier" in  Iran facing Others , edited by Abbas Amanat and Farzin Vejdani, London: Palgrave. 2012.
Kurban Said, Ali and Nino, A Love Story, Anchor Books, 2000, LA Times Review of Books, July 2012. http://lareviewofbooks.org/review/a-tale-of-love-and-nostalgia-across-religious-divides-in-the-caucasus

"Intercommunal Life in Eighteenth Century Istanbul," Middle East Studies Association Bulletin, Summer 2012. Forthcoming.
"Asserting Military Power in a World Turned Upside Down: The Istanbul Festivals of 1582 and 1638," in Celebrations, Entertainment and Theatre in the Ottoman World, edited y Suraiya Faroqhi & Arzu Ozturkmen. I.B. Tauris, forthcoming.
"Models: A View from the Ottoman Margin," Kritika: Explorations in Russian and Eurasian History, 12, 2 (Spring 2011): 489-99.
"Rebels and Renegades on the Ottoman-Iranian Frontier" in Iran Facing Others: Identity Boundaries in a Historical Perspective, edited by Abbas Amanat and Farzin Vejdani, London: Palgrave. 2012.
"From mahalle (neighborhood) to the Market and the Courts: Women, Credit and Property in Istanbul" in Gender, Kinship and Property in the Wider Mediterranean: Centers and Peripheries (1300-1800), edited by Jutta Sperling and Shona Wray. Routledge, 2010.
"Maintien de lordre et contrôle social à Istanbul au XVIIIe siècle", Métiers de Police: Être policier en Europe, XVIIIe-XXe siècle (Presses Universitaire de Rennes, 2009),  87-96.
"From Istanbul to Tabriz: Modernity and Constitutionalism in the Ottoman Empire and Iran", Comparative Studies of South Asia, Africa, and the Middle East, vol. 28, no. 1 (2008).
"On the Edge of Empires: Dubrovnik and Anavarin between Venice and Istanbul," in Living in the Ottoman Ecumenical Community, Festschrift for Suraiya Faroqhi, edited by Vera Costantini and Markus Koller (Leiden: E.J. Brill, 2008).
"Feeding the Poor: The 'Imaret of Rab'-i Rashidi in Tabriz," in Feeding People, Feeding Power, Imarets in the Ottoman Empire, edited by Amy Singer, Nina Ergin and Christoph Neumann (Istanbul: Eren Publishers, 2007).
FELLOWSHIPS
Research Scholar, Department of Near Eastern Languages and Civilizations, The University of Chicago, Fall 2016-Winter 2017.
Senior Research Fellow, RCAC (Research Center for Anatolian Studies at Koç University, Istanbul), 2011-12,