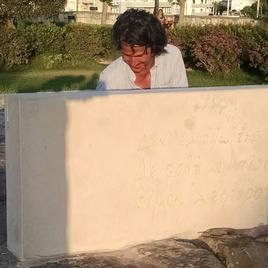 Dr. Denver Graninger
Associate Professor
Ph.D., Cornell University, 2006
Contact Information
Department of History
Denver Graninger joined the faculty of the University of California, Riverside in 2012, where he currently serves as Associate Professor of History. He received a BA in Classics from New Col- lege of Florida (1997), an MA in Classics (Greek) from the University of Colorado, Boulder (1999), and a PhD in Classical Studies from Cornell University (2006). From 2005-2010, he was Assistant Professor of Classics at the University of Tennessee, Knoxville; from 2010-2012, he was Director of the American Research Center in Sofia, Bulgaria.
Graninger was Rhys Carpenter Faculty Fellow in Classical Studies at the American School of Classical Studies at Athens in 2008-2010, where he also served as Gertrude Smith Professor in 2016. He was Guest Scholar at the Getty Villa for their Scholar Year program on Thrace in 2020.
He is author of Cult and Koinon in Hellenistic Thessaly (Leiden 2011) and co-editor of A Companion to Ancient Thrace (Malden, MA 2015); recent articles and book chapters have explored how social, political, and religious practices and institutions mediated relationships between Greek and local populations on the Balkan periphery of the ancient Mediterranean world.
A monograph on the history of Larisa (Thessaly) to 1881, with emphasis on the Hellenistic and Roman city, is in preparation, as are a series of smaller studies on states and statelessness in ancient Thrace.
Graninger welcomes inquiries from prospective graduate students with interests in ancient Greek history.