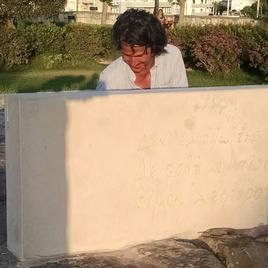 Dr. Denver Graninger
Associate Professor
Ph.D., Cornell University, 2006
Contact Information
Department of History
Denver Graninger received his B.A. from New College of Florida (1997), an MA from the University of Colorado, Boulder (1999), and a Ph.D. from Cornell University (2006). From 2005-2010, he was Assistant Professor of Classics at the University of Tennessee, Knoxville; and from 2010-2012, he was Director of the American Research Center in Sofia, Bulgaria. Graninger joined the Department of History at UCR in 2012.
Graninger was Regular Member and Michael Jameson Fellow at the American School of Classical Studies at Athens from 2002-2003, where he returned as Rhys Carpenter Faculty Fellow in Classical Studies from 2008-2010.
Graninger's research focuses on the social and political implications of Greek religion. In addition to a number of articles and chapters on the history, religion, and epigraphy of the northern Greek world in antiquity, he is author of Cult and Koinon in Hellenistic Thessaly
 (Brill, 2011), a study of the dynamic relationship between state cult and political identity in the Thessalian League, ca. 196-27 BCE. Graninger is currently co-editing A Companion to Ancient Thrace, under contract with Wiley-Blackwell, and beginning work on a book on late Antigonid Macedonia.