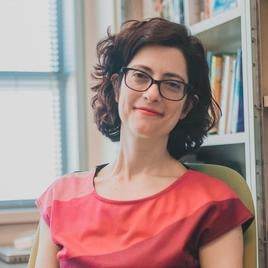 Dr. Dana Simmons
Associate Professor

Ph.D., University of Chicago, 2004
Research Areas
Science and Technology
Courses Taught
I teach undergraduate courses on hunger and famine, disease and society, the Tuskegee Syphilis Study, world history and Modern Europe. My current graduate courses deal with the history of things and technopolitics. I am committed to experiments in improvisational pedagogy, game-based and experiential learning.
Contact Information
Department of History
(951) 827-5401
I am a historian of science and technology. My research interests include hunger, nutrition, soil and plant science, political economy, the human sciences, feminist theory and technopolitics.
My book, Vital Minimum: Need, Science and Politics in Modern France, traces the history of the concept of the "vital minimum"--the living wage, a measure of physical and social needs. In the book I am concerned with intersections between technologies of measurement, such as calorimeters and social surveys, and technologies of wages and welfare, such as minimum wages, poor aid, and welfare programs. How we define and measure needs tells us about the social authority of nature and the physical nature of inequality.
I am currently working on a project tracing the science and politics of hunger. Hunger was central to the construction of the twentieth-century social-scientific subject. Psychologists, anthropologists, sociologists and neuroscientists used hunger as an experimental tool and as a model system for understanding what makes us human. These sciences developed theories of the causes and effects of hunger, theories that spoke to questions like, What motivates someone to work? How do children learn? What qualities - physical and mental - make a person adapted to the modern world? Why do some people thrive in a modern capitalist consumer society, while others become sick? Why are some people seen as maladapted, to be treated or trained to adapt better to the modern environment? What are the social causes of hunger and food insecurity? I am even more interested in what the traces of these model systems, and the people and animals within them, can tell us about the history of hunger itself.
I am also faculty co-organizer of the UCR Science Studies group, which is committed to building a community inclusive of indigenous, minority and marginalized knowledge makers in STS.
Awards Received
Blum Initiative Faculty Research Seed Grant, 2018-2019
Center for Ideas and Society Humanities Interdisciplinary Program Awards, 2015-2019
Affordable Course Material Faculty Grant, 2016
Center for Ideas and Society Residency Fellowships, 2008 and 2015
Office for Undergraduate Education Capstone Development Grant, 2015-2016
Publications
Vital Minimum: Need, Science and Politics in Modern France (University of Chicago Press, 2015)
"The Weight of the Moment: J.G.A. Pocock's History of Politics and Politics of History," History of European Ideas June 2012.
"L'agronomique et l'anthropologique dans la France postrévolutionaire" book chapter in Anne Lhuissier et al, eds. Normes alimentaires en pratiques. Sciences, enquêtes et campagnes nutritionnelles (Presses Universitaires de Rennes, 2012)
"Wages and the Politics of Life in Postwar France," Journal of Modern History September 2009 81(3): 579-606.
"Famine Disease: Starvation Science from Colonies to Metropole," book chapter in Frank Trentmann and Alexander Nützenadel, eds. Food and Globalization (Berg, 2008: 173-192.)
"Waste Not, Want Not: Excrement and Economy in Nineteenth-century France," Representations 96 (Fall 2006): 73-98.