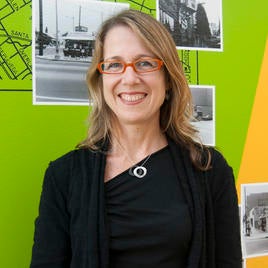 Dr. Catherine Gudis
Associate Professor of History / Director, Public History Program
Teresa and Byron Pollitt Endowed Term Chair of Interdisciplinary Research and Learning in the Humanities and Social Sciences

Ph.D., Yale University, 1999
Research Areas
20th Century U.S. cultural history; consumer culture, the history of the built environment; public history
Through her work in public history and 20th century U.S. history, Professor Gudis builds upon her interest in consumer culture, visual culture, and the history of the built environment. She is especially interested in the urban and cultural history of Southern California as well as modes of public culture related to museums, art, performance, and preservation.
Courses Taught
Theory and Methods: Visual and Material Culture Studies
Theory and Methods: Approaches to Public Culture
Historic Preservation Seminar and Practicum
20th Century U.S. and California History Research Seminars
Los Angeles: Race, Place, Story
Modern U.S. Consumer Culture
U.S., 1914-1945
Jazz Age America
Contact Information
Department of History
Catherine Gudis is Director of the Public History Program at UCR and teaches classes in public history and 20th century U.S. history, building on her twin interests in modern consumer culture and cultural and urban constructions of race, space, and place. She received her B.A. in Philosophy from Smith College and Ph.D. in American Studies (with distinction) from Yale University, where she also won the Yale Teaching Prize. Professor Gudis is the author of Buyways: Billboards, Automobiles, and the American Cultural Landscape
 (Routledge, 2004), which traces the relationship between automobility, advertising, and the commercialization of the urban environment. She has contributed to and edited Cultures of Commerce: Representations of Business Culture in the United States (coedited with Elspeth Brown and Marina Moskowitz, Palgrave/MacMillan, 2006) and museum books on art and culture, including Lions and Eagles and Bulls: Early American Inn & Tavern Signs (Princeton, 2001), Ray Johnson: Correspondences (coedited with Donna DeSalvo, Flammarion, 2000), Helter Skelter: L.A. Art in the 1990s (Los Angeles: Museum of Contemporary Art, 1990), Oehlen Williams (Wexner Center, Ohio State, 1999), and A Forest of Signs: Art in the Age of Representation (MIT, 1989).
Professor Gudis's recent articles in History and Technology (2010), Blackwell Companion to California History (2008), and The Transformation of Public Culture: Assessing the Politics of Diversity, Democracy, and Community in the United States(2008) address the construction of place identity in California through art and visual culture and the relationship of marketing and mobility to urban sprawl. Current research towards her next book, tentatively entitled Curating the City: The Framing of Los Angeles, explores the ways in which public art, performance, and history can help frame and socially activate urban space and place in Southern California. Another, future book project, entitled To Market, To Market: Global Cultures of Distribution,
addresses the history and impact of product distribution on the cultural landscape.
For more than 20 years, Gudis has worked as a curator and consultant to art and history museums and in the field of historic preservation. Recent exhibitions she curated include "Geographies of Detention: From Guantánamo to the Golden Gulag" (with Molly McGarry) at the UCR California Museum of Photography (June-September 2013); "Junípero Serra and the Legacies of the California Missions" (with Steve Hackel) at the Huntington Library, Art Collections, and Botanical Gardens (August 2013-January 2014; and "Deborah Sussman Loves Los Angeles!" (with Barbara Bestor) at the Los Angeles Forum for Architecture and Urbanism's WUHO Gallery, Los Angeles (2014). She also played advisory roles on the Getty Research Institute's "Overdrive: L.A. Constructs the Future" (2012) and the Los Angeles County Natural History Museum's permanent exhibition "Becoming Los Angeles" (opened Summer 2013). Her work in preservation includes contributions to SurveyLA (the City of Los Angeles's first comprehensive survey of historic cultural resources), historic studies for the City of Riverside related to modern architecture and to civil liberties and civil rights, and the multimedia, multi-site project "Curating the City" (www.curatingthecity.org) for the Los Angeles Conservancy. She contributed The Modernist's Guide to Iconic Wilshire Boulevard to the Getty Museum's Pacific Standard Time Presents: Modern Architecture (2013), for CicLAvia, when one hundred thousand pedestrians and cyclists took to the streets as part of their urban explorations. Gudis is a co-founder of Project 51, a collective of artists, planners, and scholars whose Play the L.A. River debuts in September 2014, and the Empire Logistics Group, whose public practice investigates the impact of the goods movement industry in Southern California.
Gudis was a Scholar at the Getty Research Institute in 2012-13, held a fellowship at the Huntington Library in 2013, and is a 2013-14 fellow at Harvard University's Charles Warren Center for Studies in American History.