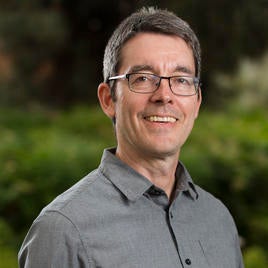 Dr. Alexander Haskell
Associate Professor
Ph.D., Johns Hopkins University, 2005
Research Areas
Early American History, with emphases on politics, law, religion, print culture, and moral discourse in the sixteenth through eighteenth centuries
Courses Taught
HISA 110A: Colonial America
HISA 110B: Revolutionary America
HISA 125F: Ethics and Society in Early America
HISA 122A: Religious Cultures in Early America (cross-listed with RLST 137A)
HISA 17A: U.S. to 1877
HIST 197: Research Seminar in Early American History (recent topics: Reputation, Honor, & the Social Order; The Stamp Act Crisis; Slander, Libel, & Free Speech)
Contact Information
Department of History
Alec Haskell came to Riverside in 2007 after receiving a Ph.D. in History from The Johns Hopkins University and completing a two-year NEH fellowship at the Omohundro Institute of Early American History and Culture. He has also taught at Southern Illinois University, Edwardsville. For several years after receiving his A.B. in History from Princeton in 1992, he was a fifth and sixth grade teacher in Chicago and worked for a not-for-profit organization committed to reducing high school dropout rates.
Haskell's research focuses on the interplay of religion and politics in the early modern English Atlantic world. His first book For God, King, and People: Forging Commonwealth Bonds in Renaissance Virginia explores the beginnings of English colonization in America by devoting particular attention to the Christian humanist terms by which colonizers defended their undertaking and gave it meaning. Ideas of commonwealth, sovereignty, and divine providence were the raw materials by which an array of powerful statesmen, their talented clients, and several generations of early colonial inhabitants both nudged reluctant monarchs toward taking the Virginia project seriously and navigated the uncertainties that attended polity formation in America's strange environs. In recovering a Renaissance age of colonization before the rise of the Hobbesian sovereign state, the book also sheds light on how state sovereignty emerged in relation to colonization's own justificatory logic.
Publications
Haskell is now at work on a book on zealotry, tracing the fears and hopes that surrounded Protestant fanaticism in the seventeenth century English Atlantic world, efforts to contain and unleash this force, as well as zeal's sheer power in reshaping the colonizing enterprise.