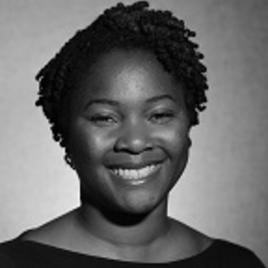 Dr. Ademide Adelusi-Adeluyi
Assistant Professor
Ph.D. in History, NYU 2016
Research Areas
Lagos, West Africa, Urban History, Maps and Mapmaking, Spatial Humanities, Historical GIS
Courses Taught
Fall 2020
The Historian as Detective: Writing African Histories (HIST 001)
Digital Storytelling: Mapping City Life in Africa. (HIST 088) Visit digitalstorytelling.ucr.edu
Winter 2021
Maps: A History of Cartography (HIST 089)
New Approaches to Historical Research: Urban History (HIST 250)
General
African Cities in Modern History (HIST 138)
Africa: In Fiction, Film & Science Fiction (HIST 139)
19th and 20th Century Africa (HIST 137)
Contact Information
Department of History
951-827-7138
Trained as both historian and computer engineer, Ademide's research into the history of African cities combines a set of interdisciplinary interests in African and urban history, technology, cartography and spatial humanities. She joined UCR's History department in July 2015 and received her PhD in History from NYU in 2016. 
Her current book project, "Imagine Lagos: Speculative Maps and the Making of a Nineteenth Century West African City," is a spatial history of Lagos between 1845 and 1868, one that takes into account the city's role as the economic, political and cultural focal point of the Bight of Benin. In particular, it analyzes how coastal West Africans imagined, manipulated and represented Lagos, how they built their homes, compounds, quarters and markets, and even how they destroyed them in tense competitions for political and economic power.
Accompanying this book project is a cartographic database, "New Maps of Old Lagos," which comes out of her research as an Andrew Mellon Postdoctoral Fellow at Rice University's Humanities Research Center. "New Maps" offers visual interpretations of intersecting historical vignettes of nineteenth-century Lagos. These maps narrate urban change in Lagos by documenting and illustrating the effects that civil wars, colonialism, slavery, emancipation and religion had on the city's urban fabric. 
Visit newmapsoldlagos.com
Peer-Reviewed Publications
"Mapping Old Lagos: Digital Histories & Maps about the Past." The Historian 82, no. 1 (2020): 51–65.
"'Africa for the Africans?': Mapmaking, Lagos, and the Colonial Archive." History in Africa 47, no. 1 (2020): 275–296.
"Historical Tours of 'New' Lagos: Performance, Place Making, and Cartography in the 1880s." Special Issue of the Journal of Comparative Studies of South Asia, Africa, and the Middle East. 38, no. 3 (2018): 443–54.
Recent Fellowships and Awards
2019-2020
UCHRI Junior Faculty Book Manuscript Workshop Award for "Imagine Lagos: Speculative Cartography and the Making of a 19th Century African City"
2018-2019
Woodrow Wilson National Fellowship Foundation Career Enhancement Award for Junior Faculty. More info. *Please note that the foundation is in process of changing its name
Hellman Foundation Fellowship 
UC Regents' Faculty Fellowship
2016-17
Andrew W. Mellon Foundation Postdoctoral Fellowship, Rice University.
Professional Memberships
African Studies Association (ASA), member.
Association for the Study of the Worldwide African Diaspora (ASWAD), member.
Lagos Studies Association, Founding Member
Urban History Association (UHA), member. 
Nigerian Studies Association (NSA), member.
American Historical Association (AHA), member.